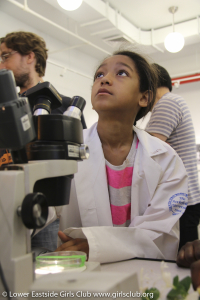 This summer, the Science Sisters tried a different type of investigation. Our girls traded in their microscopes for microphones for a day and did a great interview with scientist Monica Mugnier! Along with studying environmental and biological science at the BioBase, (the Girls Club's state-of-the-art science lab) our young scientists took a trip to our Sound Studio for an exclusive interview with scientist Monica Mugnier.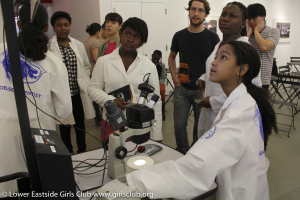 Monica Mugnier is a graduate student at The Rockefeller University. In the lab, she studies African trypanosomes, the parasites that cause African Sleeping Sickness, and the ways they hide from our immune systems. Her work has been published in Science, and she has been invited to speak at multiple national and international conferences. Her work has also taken her across the globe, with collaborations taking root in Portugal and Africa. When she isn't pipetting, she likes to share her science with kids around the city.  She is passionate about education, and hang out with her dog, as she is also passionate about cute animals (but usually not at the same time).
Thanks Monica, we hope to have you back at Girls Club soon!